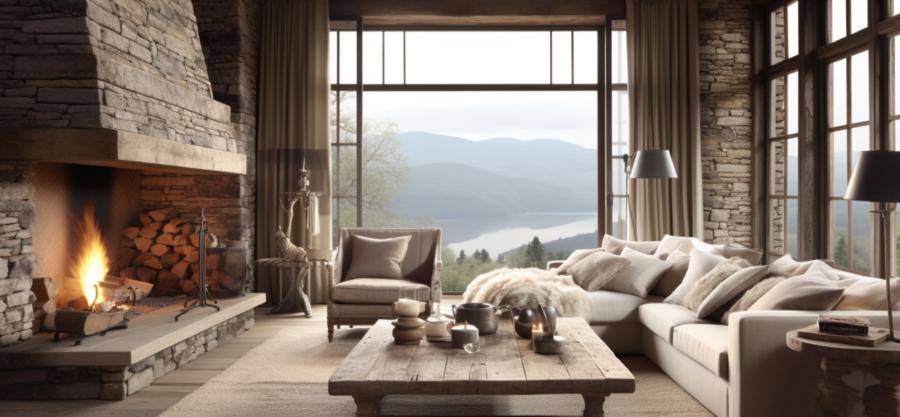 When Two Worlds Collide: Country Bumpkin Meets City Slicker
Imagine the setting: a quaint, country cottage. A humble abode with a thatched roof, surrounded by rolling hills and grazing sheep. Inside, a simple, wooden table adorned with a hand-sewn tablecloth, perhaps a pitchfork propped up against the wall for added rustic charm. Now, picture a sleek, modern apartment. The epitome of city living, complete with minimalist furniture, glass surfaces, and an imposing collection of abstract art pieces. What happens when these two worlds collide? Rustic chic, that's what.
Also known as "farmhouse chic," "cottagecore," or my personal favorite, "barnyard couture," rustic chic is the lovechild of country charm and modern sophistication. It's what happens when Martha Stewart moves in with the Jetsons, creating a uniquely beautiful harmony of old-world meets new-age design elements.
Walking the Tightrope: Marrying Rustic and Chic
So, how does one successfully walk the delicate tightrope between rustic and chic? The key is achieving balance. Just like a good mullet, it's all about business in the front, party in the back. Here are some tips for achieving that perfect blend of comfort and style:
Emphasize natural materials: Think reclaimed wood, exposed stone, and distressed leather. These materials harken back to simpler times, offering warmth and character while still holding their own amongst more contemporary design elements.
Mix and match furniture styles: Pair a sleek, modern sofa with a weathered, antique coffee table, or an industrial metal dining table with mismatched chairs. Combining disparate styles creates an eclectic, curated feel that is equal parts rustic and chic.
Blend old and new: Lovingly restore and repurpose vintage treasures, such as a chipped farmhouse sink, a rusty metal sign, or an antique armoire. Then, juxtapose them against more modern elements, like a sleek, stainless steel refrigerator or a minimalist chandelier. The contrast will be striking and sophisticated.
Don't fear color: While neutral hues are certainly the bread and butter of rustic chic, don't be afraid to throw in some pops of bright, bold color. A vibrant turquoise door, a mustard yellow sofa, or a cherry red vintage truck grille can add just the right amount of personality and panache.
Accessorizing Like a Pro: The Cherry on Top
Now that you've mastered the art of blending rustic and chic, it's time to accessorize. The right accents can make or break your design masterpiece, so choose wisely. Here are some tips to help you accessorize like a rustic chic pro:
Function meets form: Embrace practical items that also serve as decorative pieces. A vintage ladder repurposed as a towel rack, a collection of antique spice tins, or a weathered watering can all fit the bill.
Go green: Bring the outdoors in with an assortment of plants, flowers, and herbs. These natural elements will add life and freshness to your space while also tying in that rustic, country feel.
Embrace textiles: Layer in cozy, tactile fabrics like linen, burlap, and chunky knit throws to add warmth and texture to your space. Don't be afraid of patterns, either - a gingham tablecloth or a paisley throw pillow can add visual interest and a touch of whimsy.
Get crafty: DIY projects are the name of the game in the world of rustic chic. Try your hand at creating a reclaimed wood wall, sewing your own curtains from vintage fabric, or upcycling an antique door into a stylish headboard.
Living the Rustic Chic Lifestyle: Beyond Interiors
Rustic chic isn't just about decorating your home - it's a lifestyle. Embrace the ethos of slow living, sustainability, and an appreciation for the simple things in life. Cook from scratch using fresh, seasonal ingredients. Preserve your own jams and pickles. Spend time in nature, whether it's tending to your garden, hiking through the woods, or sipping sweet tea on your porch swing.
As you immerse yourself in the rustic chic lifestyle, you'll find a sense of peace and happiness that comes from living in harmony with both the old and the new. It's a beautiful thing, like a perfectly balanced mullet, swaying gently in the breeze.
In Conclusion: Rustic Chic, the Ultimate Design Hat Trick
Rustic chic is more than just a design trend - it's a way of life, a harmonious blend of old-world charm and modern sophistication. By following the tips outlined in this article, you'll be well on your way to creating a space that is equal parts cozy, stylish, and uniquely you. So, go forth and live your best rustic chic life, and may your mullet forever be perfectly balanced.
Article kindly provided by yourhomengarden.org